In just a few short days, Robby and I will be celebrating our first wedding anniversary. Woo-hoo! In honor of that occasion, I thought I'd re-print the story of how we met and got engaged. The story originally appeared on our wedding web site, which has since disappeared…
How We Met
7/7/07: A Lucky Day! (Kim)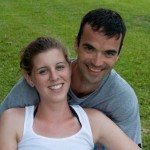 Those of you familiar with our conservative natures will be shocked to learn that we first met at a line dancing bar (Montana's in San Dimas, CA). We were there with some mutual friends, and spent the evening sitting at the same table between dances.
Robby asked me to dance, and I thought he was handsome so I said yes.

We soon discovered that we both knew a thing or two about library classification systems and metadata schemes (yes, we realize how nerdy that is. Don't judge!). We also had similar family backgrounds, and a shared faith in Christ. I liked him right away and was slightly disappointed when he left without saying goodbye. A couple of days later, I was still thinking about him, so I got his email address and sent him an email thanking him for teaching me to two step. He replied, and in his email he mentioned that he had a girlfriend. I figured it wasn't meant to be, and moved on with my life.
Exactly five months later (12/7/07), I was sitting in my office on a Friday morning, contemplating a trip to the cafeteria for lunch. I heard a knock at my door, and looked up to see a vaguely familiar-looking guy standing in the doorway. He said, "I'm Robby Stephenson. Do you remember me from Montana's last summer?" I couldn't figure out why in the world he was visiting me at work, but I was intrigued so I asked him to sit down.
He casually mentioned that he was in the neighborhood doing something for his church, and said that he remembered that I worked at APU and decided to stop by "on a whim." I found out later that he had broken up with his girlfriend a few months before, and remembered the email I sent him. He decided he couldn't pass up the chance to get to know a nice Christian girl, so he looked me up online and boldly decided to ask me out in person.
We talked for a while, and Robby asked me if I would go to lunch with him. I said, "Sure," and our first date was in the APU cafeteria (he paid :)). After he left, I sent him another email to thank him for lunch. He replied, and asked for my phone number so he could ask me out officially (which he promptly did). Our second date was at the Candlelight Pavilion, a dinner theatre in Claremont, CA. We had a great conversation between the acts of the corny musical, and we've been together ever since!
Robby
"Look with favor upon a bold beginning." — Virgil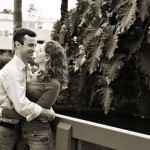 It's not every day that one has the chance to two-step with a pretty lady while discussing the pros and cons of controlled vocabularies. It's even more rare when said lady emails you a few days later! For the rest of my life, I will be firmly convinced that God's great goodness was mixed with quite a bit of loving amusement in giving us such a fun story.
To this day, I'm not quite sure what specific bent of mind sent me to APU in December. I know that the guys around me encourage boldness and acting "manly" and when a discussion about meeting girls brought Kim to mind, I decided to act. I didn't want to seem imposing or desperate, so I tried to understate my visit with an excuse about "being in the neighborhood." My first thoughts on walking into Kim's office were that she had a lot of tea on her shelf, and that she obviously loved her dog.
When she didn't kick me out right away and we had a chance to chat, I asked her about joining me for lunch. The cafeteria wasn't exactly what I had in mind, but it was nice and convenient! We spent an hour talking about family and work and all sort of things. Being the oldest of 5 and 7 kids, respectively, we certainly had many shared experiences! I remember leaving the library after a quick post-lunch tour, feeling slightly dazed at how well my visit had worked out, and somewhat unsure how to move forward.
Boldly begun, nothing else but to boldly continue. I cast around for something dashing to impress her with for our first "real" date, and a suggestion from a colleague led to a somewhat corny Christmas dinner theater. I was so nervous about figuring out what to wear that I called Kim twice to change the plans.
We enjoyed another dinner date before I left for Christmas vacation, and I made sure to call her while I was home. Each new date was one more step to falling in love with the beautiful librarian who first intrigued me with her nerdiness and forwardness, and then kept me hooked with her commitment to Christ, adventurous spirit, and caring nature.
Our Engagement Story
Kim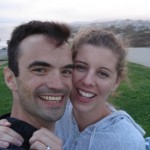 We realized pretty early on that our relationship was heading towards marriage, so it wasn't a big surprise to me when, around our 6-month anniversary, Robby suggested that we look at engagement rings. After some research and window shopping, I decided what kind of ring I liked best and passed the information on to Robby…and didn't hear much more about it for another month.
We traveled to Atlanta to spend the 4th of July weekend with Robby's extended family, and I wondered if he would propose there. Imagine my disappointment when he told me that not only was he not proposing that weekend, but that it might be a while before it happened. I decided to try my best to be patient, and resigned myself to waiting months if it came to that…
We got back to California on the 6th, and the next day we celebrated the 1-year anniversary of our meeting by playing a softball game with our church team. After the game, Robby suggested that we have a picnic the next day (Tuesday), which sounded good to me. Tuesday, I had a normal day at work, then met Robby to go pick up our picnic items at Trader Joe's. I was a little surprised when he suggested driving all the way to San Pedro to eat, but I didn't think too much of it.
We got to Angels Gate park around 7:15, and ate our dinner while looking out over the ocean (we ate quickly because it was really cold and windy. I actually had the hood of my sweatshirt up the whole time…so romantic). After dinner, Robby gave me a scrapbook he had made to document our first year of knowing each other. It was so sweet and creative, and I spent a long time looking at all the pictures. By that point, the sun was starting to go down, and Robby suggested that we take a walk around.
We walked around the peninsula, looking at the waves, and Robby told me to look at the clouds. When I turned back, he was on one knee and holding a small box. It took me a second to realize what he was doing, because I had assumed he wouldn't be proposing for months. I was so shocked that the first thing I said was, "You're such a jerk! You made me think I was going to have to wait for ages for this!" Kind of an odd response, but oh well.

He asked me to marry him, and I shouted, "YES!" then gave him a big hug.
Robby had chocolates and sparkling peach cider ready, and we spent the next few minutes savoring the moment…until a security guard marched over and told us the park was closed and we had to leave or he would cite us for trespassing. That pretty much ruined the moment, so we grabbed our stuff, ran back to the car, and spent the next hour on the phone telling our family and friends the happy news.
Robby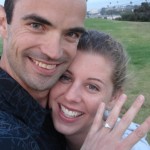 Kim's taste in ring style and diamond cut happens to be on the uncommon side, especially in combination. Finding a place that had both a ring that wouldn't need significant reworking as well as an emerald-cut diamond readily available proved to be rather difficult.
After visiting many jewelers in the area and scouring online recommendations, I finally found a local jeweler who had a ring that seemed to fit Kim's preference almost perfectly. I worked with him to choose the diamond and have the ring refit and resized. That it came as a matched engagement and wedding band set was a nice bonus.
Meanwhile, I knew Kim was wondering why I was waiting. When we had first started talking about marriage, our one-year anniversary of having met jumped immediately into my head as the perfect date to propose. But as that day got closer, and with our plans to be traveling the weekend before, I was rather doubtful about having everything ready.
I had already placed the order for the ring, and the expected delivery date was well after July 7. But the diamond was delivered more quickly than the jeweler thought, and when I mentioned that I had hoped to propose on Monday, he said he'd work on having it ready by then. On July 2, since I had the day off, I had the chance to drive to Temecula to talk to Kim's parents about proposing without her knowing.
I got a call while we were in Atlanta that the ring was ready, but as it turned out, the jeweler was not open on Monday. Since Kim and I were not going to be able to have our special date then anyway, I wasn't too disappointed.
I picked the ring up on Tuesday, during my lunch break. I'd been thinking for weeks about where and how I wanted to propose. I wanted us to have some privacy, and I really liked the idea of proposing outside. With Kim having just moved to Long Beach, I researched romantic spots in that area and discovered several mentions of the Point Fermin lighthouse in San Pedro.
I left work early and drove down to check out the spot. The bluff with the lighthouse is so high, the ocean isn't very visible. But I saw the hill above the bluff, and walked up there to explore. Angels Park, with the Korean Friendship bell, is very pretty and wide open, with the sea visible on three sides, and what I could tell would be a perfect view of the sun setting to the west.
I had stayed up rather late on Sunday and Monday nights, finishing the scrapbook that I wanted to give to Kim. We have had so many special moments that it seemed perfect to celebrate a year with clippings, photographs, and stories.
Before picking Kim up, I grabbed some chocolates and a (non-alcoholic) drink to celebrate. I was beginning to get nervous, but since Kim had told me weeks before that she was not going to say no, I didn't have any doubts about her answer!
I wanted to surprise Kim with the proposal, and the couple of times that she had asked me about it, I had asked her just to trust me. The subject arose again while driving over to San Pedro, and it was all I could do not to giggle, knowing that the engagement ring was sitting in the seat behind her.
With the wind blowing so strongly, it was rather cold on the hilltop, and Kim looked adorable with her hood pulled over her head. I gave her the scrapbook after we ate, and told her to look through it slowly. I'd thought about pulling out the ring as she got to the last page, but then I decided it would work better if she were standing up. So I suggested we walk around the hill (ostensibly, to warm ourselves up).
When we got back to our spot, the sun was setting and I remarked on how pretty it was. Kim looked away, and I fumbled in the bag to pull out the box. I'd run through many ways to propose in my head, but I had settled on telling her simply what I felt.
So I got down on one knee, and told Kim that I loved her.
Would you give me the honor of becoming my wife and the privilege of being your husband? You'll make me the happiest of men if you say yes!
At least, that's what I remember saying!
Kim's reply was not exactly how I had scripted it, but she made me laugh, nonetheless. Once she got over her surprise and said yes, I grabbed her in a big hug as she put the ring on. I think she was shivering from excitement more than from the cold at that point!
I had brought my camera with me, so we tried to take a few photographs. They turned out pretty well, considering I was holding the camera myself!